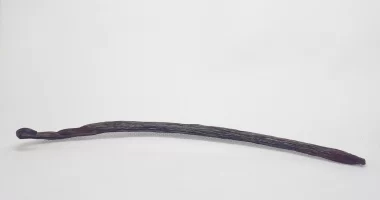 Our Grade A vanilla beans have a perfect moisture content which is around 25-30%. A grade vanilla bean produces a vanilla extract of top quality.
Top chefs around the world prefer our vanilla beans. as these beans are perfect for cooking, baking, and making all sorts of frozen desserts.
6+ Inches Long Grade A Vanilla Beans
These beans are perfect for Cooking and Baking and they are producing a highly flavorful vanilla extract
In the world vanilla market, grade A vanilla (bourbon vanilla) beans are the most expensive. They are fleshy and are easy to split. These are also extremely aromatic.
We use fully cured beans to sort out our grades. This method varies according to the producers. However, we pay attention to the length of the beans in our grading system.
Further, these beans are dark brown to black color in appearance.
Furthermore, our A beans have an oily texture and consist of a dark black color.
The moisture content is always high and it is around 25-30%.
Our vanilla beans and all our other vanilla products, come in vacuum-sealed packaging to protect freshness and aroma.
Our beans are All-natural and gluten-free.