Vanilla Bean Powder for baking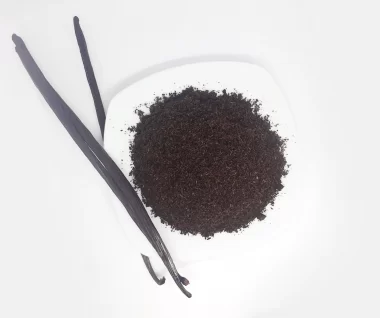 100 mesh size, whole dehydrated, and vanilla bean powder.
The Vanilla powder comes from vanilla beans and it gives the rich vanilla flavor of our Pure Vanilla beans. Our vanilla powder is an all-natural, alcohol-free and sugar-free.
We produce this powder by grinding the whole dehydrated, hand-picked vanilla beans/pods.
The powder contains no alcohol.
Chefs choose this powder as an alternative to liquid of pure vanilla extracts. Sprinkled on waffles, fresh fruit, or cappuccinos it adds a subtle richness. Make your own hot chocolate mix with fresh cocoa, spiced mocha mix, or use our powder as a light glaze for fresh corn or carrots.
We are supplying pure natural powder and aren't mixed with powdered sugar, artificial ingredients, or coffee.
How do you use natural vanilla powder in baking?
In addition, the benefit of using a pure vanilla bean powder is that you unlike most ready-made vanilla extract in the market, you can get an 'alcohol-free' vanilla flavor.
It is generally excellent with cereals, teas, berries, or sprinkled on french toast. You can also use vanilla powder to make :
Sweet items such as dry baking mixes (cakes, brownies, cookies, muffins), icings.
Savory items such as barbecue spice blend.
Beverages such as hot chocolate mix, tea blends, sangria.
In conclusion, our vanilla powder is a great option if you want to go for a long-lasting, easy to use the pure vanilla product.